Masks: Large Dragon
Patience, please - this page is under construction.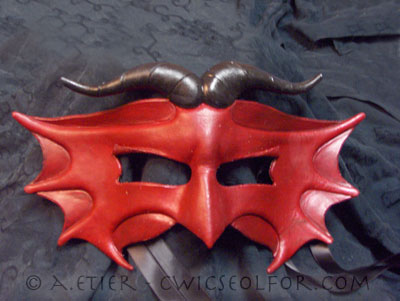 A large horned dragon with cheek-fans flared, all smooth, strong lines. Heavy brow ridges suggest the thick bone of an immense face, as the eyelids protect vulnerable flesh at the eyes.
This mask is quite broad, extending inches from the face at either side, with a slight bend and flare creating a comfortable fit. The winglike cheek-fans may be angled as desired. The carved spiral horns sit high in the skull, and a large beak hooks out and downward. Scales and textures are available, or smoother mammalian skin may be preferred.
Makes a wonderful Couple's mask paired with the
Lady Dragon
or any of a number of
fae
. Lined in a natural suede and bound with ribbon ties.
To picture every available permutation of this design would be an impossible task, and would sadly exclude your own ideas. Please do not hesitate to
send a note
if you have an idea and would like a quote or to discuss a design.
$115+
Pricing Guide:
- Up to two colors with slight tinting accent on membranes and eyelids at base price.
- Elaborate carving and tooling - with scales on bony areas and striation on membranes is available starting at $150.
- Any more elaborate painting or carving work, such as smaller scales, will be priced on a case-by-case basis; please
contact us
for an estimate.