Masks: Lady Dragon
Patience, please - this page is under construction.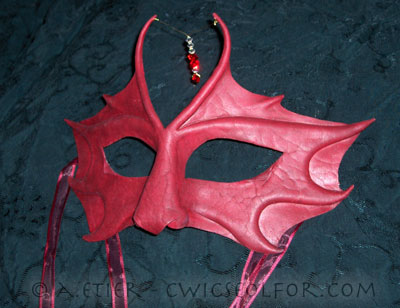 In a small size much like an eyemask, this dragon would seem harmlessly pretty were she not razor-sharp. Her delicate features and gentle sculpting contrast her elegant, tiny ferocity, bright and blazing as the seven brilliant Swarovsky crystals that drop between her slender tines.
Makes a great Couples' mask when paired with the
Large Dragon
. Lined in a natural suede and bound with ribbon ties.
To picture every available permutation of this design would be an impossible task, and would sadly exclude your own ideas. Please do not hesitate to
send a note
if you have an idea and would like a quote or to discuss a design.
$80+
Pricing Guide:
- Accent colors may be added starting at $85.
- Leather with a texture as pictured is individual and exceedingly rare - this mask was originally designed for the sake of the satiny feel and naturally-occuring scaly pattern. The price of such another mask, if such materials could be found, would be increased proportional to the cost, time and effort involved. It can be done, but do not expect the base price. Alternately, scales could be carved into the mask, pricing starting at $110.
- Any more elaborate painting or carving work will be priced on a case-by-case basis; please
contact us
for an estimate.