Masks: Columbina Jolly
Patience, please - this page is under construction.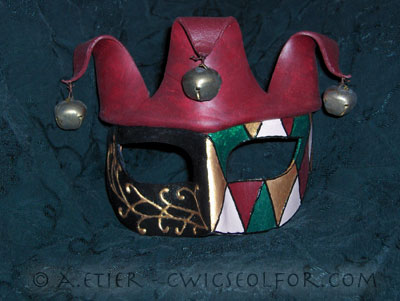 A festive mask for certain! - that is, unless you'd rather a somber one. This jester, based on the
Columbina
mask, features a sculpted hat with three belled points over a face in the traditional Venetian style. Wonderful on both men and women, an energetic and playful design.
Lined in a natural suede and bound with ribbon ties.
The potential for variety in this mask is tremendous. To picture every available permutation of this design would be an impossible task, and would sadly exclude your own ideas. Please do not hesitate to
send a note
if you have an idea and would like a quote or to discuss a design.
$60+
Pricing Guide:
- Particolor Jesters, with two colors divided straight down the nose on the face and a solid hood of any color, run from $62.
- Quartered Jesters, with two colors each on the face and the hood, run from $66.
- Jesters featuring a complex color scheme and dimensional paint, such as the featured one at the head of the page, start at $95.
- Any more elaborate painting or carving work will be priced on a case-by-case basis; please
contact us
for an estimate.