Masks: Fox
Patience, please - this page is under construction.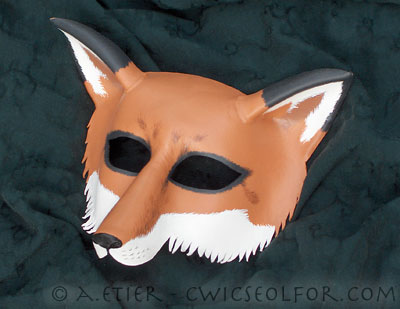 Bright and expressive, the foxes are a clever lot. With its dimensionally-sculpted ears and face, this mask's high-relief features make it distinctive from any angle. The long, pointed muzzle, tipped in a wet-looking shiny black nose, is tipped to the perfect angle away from the face to allow for breathability as well as an elegant look. At a tilt of the head, the masquer can create the unsettling illusion of a human jaw under a fox's nose - an ideal personification of the trickster.
Three versions of this mask are available, featuring different levels of detail - the simplest rising to the crown of the forehead with sculpted ears and simplified paint scheme; the second arching up high above the face, with more prominent, dimensional ears, as pictured; the most detailed with with hand-carved fur and ears sculpted at all angles, so as to complete the illusion even when seen from behind the masquer.
The Red Fox as pictured here will soon be joined by a larger-eared tan desert counterpart, the Fennec; a rounder Arctic in white, and his cousins the Gray and Black. A more distant relative, the Wolf, will arrive shortly after, and perhaps then their descendents, the Dogs.
To picture every available permutation of this design would be an impossible task, and would sadly exclude your own ideas. Please do not hesitate to
send a note
if you have an idea and would like a quote or to discuss a design.
$95+
Pricing Guide:
- The simplest fox, with a "flat" paint scheme and simplified ears, runs from $65.
- The fox as pictured, with intricately painted fur and detailed ears, is priced from the base rate of $95.
- The most complex mask, with carved and intricately painted fur and fancy ears detailed for viewing at any angle, starts at $150.
- Any other painting or carving, such as individual markings, will be priced on a case-by-case basis; please
contact us
for an estimate.