Masks: Small Butterfly
Patience, please - this page is under construction.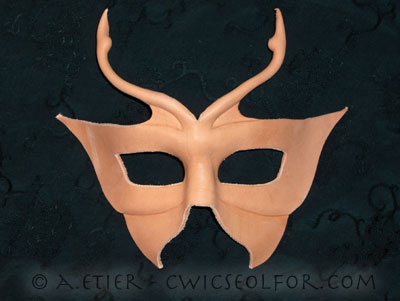 This little butterfly, all knobbly wings and antennae, may be more than what it seems. There may be little to distinguish this delicate creature from a pretty insect - but you can't always trust your eyes. The masquer may let on as much or as little as they like, and choose any identify from butterfly to seelie fae for the ball.
Knobbly antennae crown a blush-winged face, rising to the crown of the forehead and over the tip of the nose. Any pattern may be selected for the wings, from nature or the imagination.
Lined in a natural suede and bound with ribbon ties.
To picture every available permutation of this design would be an impossible task, and would sadly exclude your own ideas. Please do not hesitate to
send a note
if you have an idea and would like a quote or to discuss a design.
$65+
Pricing Guide:
- Up to two colors at base price. - Any more elaborate painting or carving work will be priced on a case-by-case basis; please
contact us
for an estimate.